In today's fast-paced business environment, companies constantly seek innovative solutions to improve productivity, drive revenue, and create personalised customer experiences. Recognising this need, Salesforce has unveiled its latest offering, Einstein Copilot. This is a groundbreaking conversational AI assistant designed to revolutionise CRM applications and customer experiences across industries.
Introduction to Einstein Copilot
Since its launch in 2023, Einstein Copilot has already garnered impressive testimonials from esteemed organisations such as AAA, Heathrow Airport, and KPMG US. These industry leaders have successfully utilised Einstein to boost their productivity, increase revenue, and deliver tailor-made experiences to their customers.
Einstein Copilot – A game-changing AI assistant
At the heart of Salesforce's next-generation offering is Einstein Copilot, an advanced AI assistant that seamlessly integrates into CRM applications. By harnessing natural language processing and machine learning, Einstein Copilot enables users to complete various tasks effortlessly.
Einstein Copilot Studio – Empowering users with unparalleled capabilities
One of Einstein Copilot's standout features is its accompanying tool, Einstein Copilot Studio. This intuitive platform encompasses several components that enhance the user experience:
Prompt builder
With the Prompt Builder, users can effortlessly create and customise natural language prompts that align with their business needs. This empowers them to interact with Einstein Copilot in a more personalised and efficient manner.
Skills builder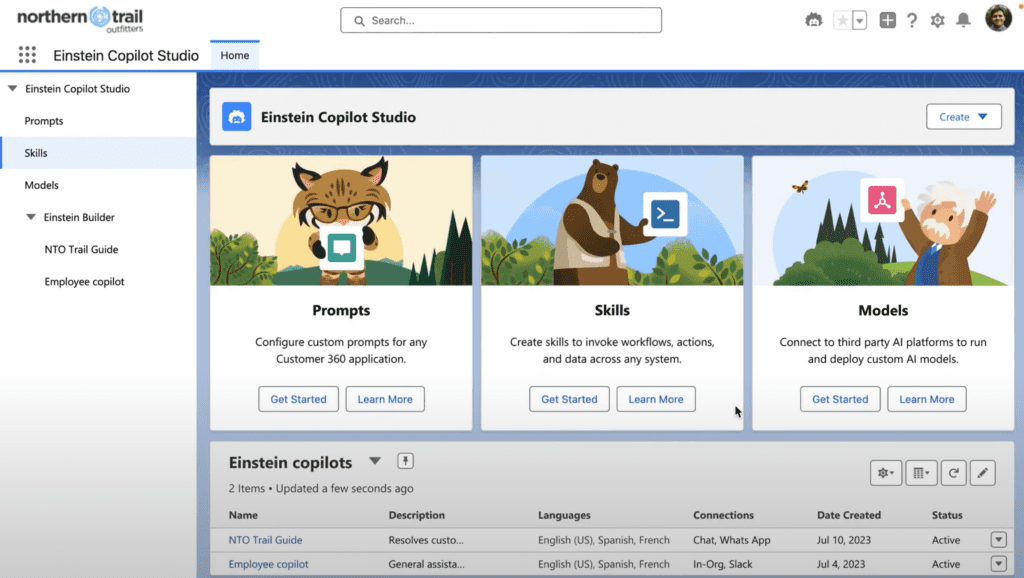 The Skills Builder component enables users to create customised skills for Einstein Copilot. This allows the AI assistant to seamlessly navigate different workflows and perform complex tasks tailored to each user's unique requirements.
Model builder
Einstein Copilot Studio also offers the Model Builder feature, which enables users to create and refine AI models. This empowers them to train the AI assistant to understand better and respond to specific queries, leading to enhanced accuracy and user satisfaction.
Einstein Copilot and Data Cloud together help Sales see a new B2B prospect is surfing a company's web page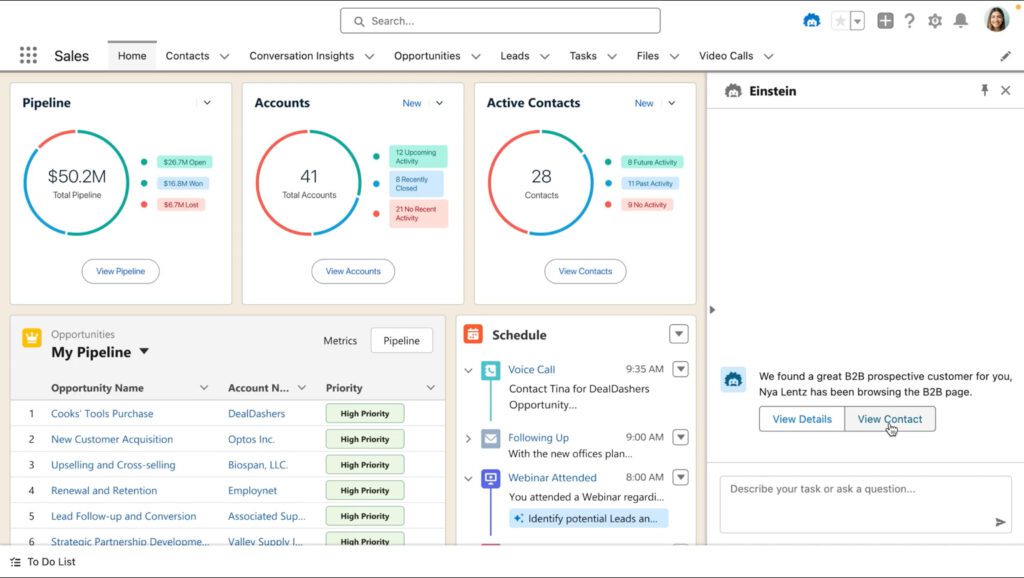 The Einstein Trust Layer – Ensuring security and compliance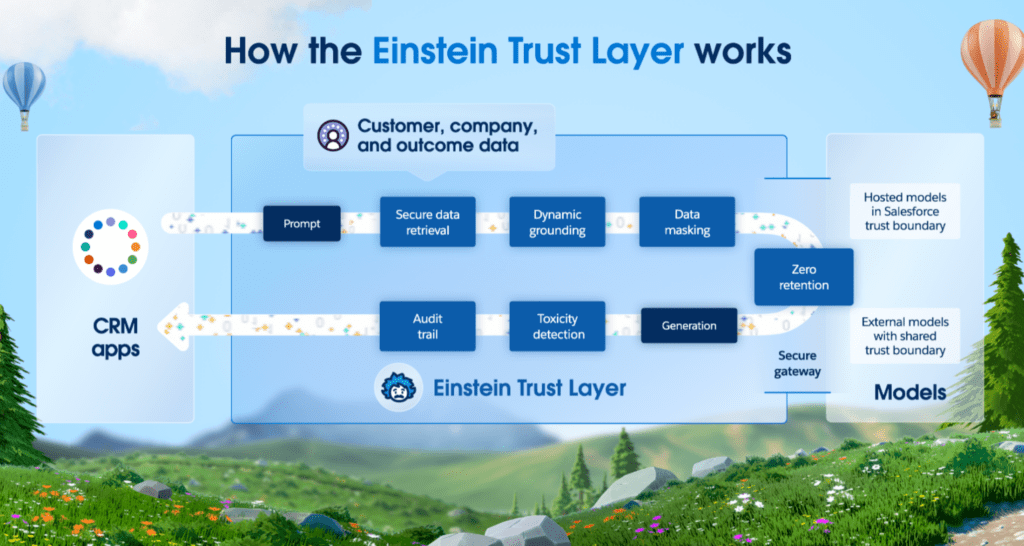 Salesforce prioritises user trust and security. Recognising the importance of privacy and compliance, Einstein Copilot and Einstein Copilot Studio operate within the Einstein Trust Layer. This layer ensures:
Integrated and Grounded Approach: Einstein Copilot is seamlessly integrated within the trust layer, providing a secure and reliable environment for users.
Zero-Data Retention and PII Protection: Salesforce maintains a zero-data retention policy, ensuring user information is protected and privacy is maintained.
Toxicity Awareness and Compliance-Ready AI Monitoring: The trust layer has advanced AI monitoring features that make sure Einstein Copilot follows strict compliance rules and does not act in a toxic way.
Enhancing efficiency across multiple domains
Einstein Copilot's versatility allows it to assist users across various domains, amplifying productivity and streamlining operations in numerous ways. The AI assistant can be utilised in the following areas and more:
Sales
With Einstein Copilot, sales professionals can leverage its capabilities to enhance efficiency, streamline lead management, and improve customer interactions.
Service
Einstein Copilot empowers customer service representatives with instant access to relevant information, allowing them to provide prompt and accurate resolutions. This results in enhanced customer satisfaction.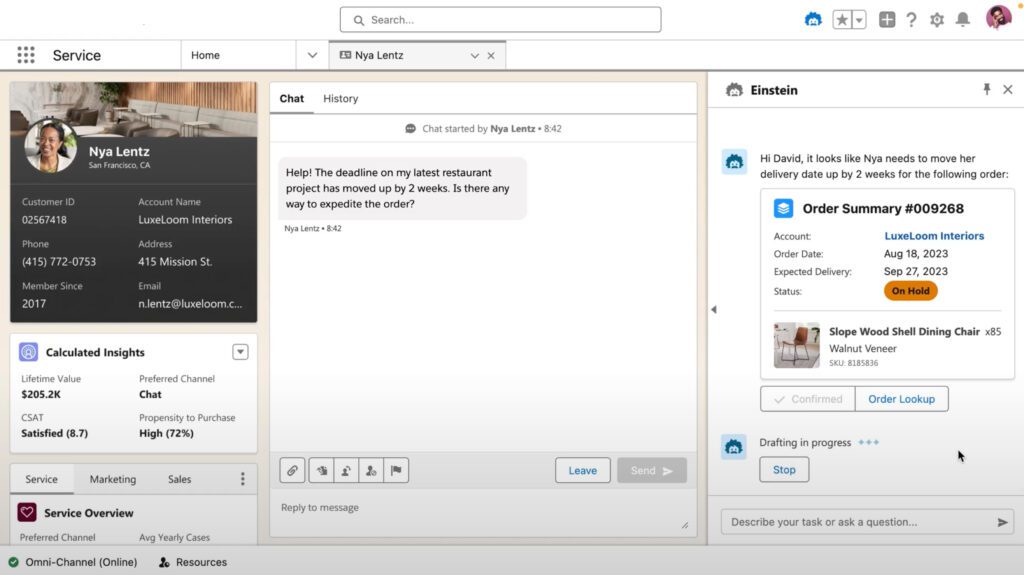 Marketing
Einstein Copilot provides valuable insights and data-driven recommendations in marketing, enabling marketers to devise effective strategies, optimise campaigns, and drive impactful results.
Commerce
For e-commerce businesses, Einstein Copilot is a valuable asset, assisting in managing transactions, responding to customer enquiries, and delivering personalised shopping experiences.
Developers
Einstein Copilot also caters to developers, offering seamless integration with development frameworks, APIs, and tools. This facilitates rapid application development and accelerates AI-powered solution deployment.
Tableau
Additionally, Einstein Copilot extends its functionality to Tableau, allowing users to access real-time, AI-driven insights within their Tableau dashboards. This empowers users to make data-informed decisions and better understand their visualisations.
Industry specific – Einstein Copilot assists industry professionals
Salesforce understands that different industries have their own requirements. To cater to specific needs, Einstein Copilot offers industry-specific assistance in the following sectors:
Financial advisor
Einstein Copilot equips financial advisors with advanced analytics capabilities, enabling them to gain valuable insights, generate accurate reports, and provide personalised financial guidance to their clients.
Healthcare
In the healthcare industry, Einstein Copilot is crucial in enhancing patient care, streamlining administrative tasks, and facilitating accurate diagnoses through its advanced AI capabilities.
Automotive service provider
Automotive service providers can leverage Einstein Copilot to efficiently manage service appointments, facilitate vehicle diagnostics, and provide accurate quotes. This contributes to a seamless customer experience.
College administrator
For college administrators, Einstein Copilot streamlines administrative processes, manages student records, and generates valuable insights for campus operations.
Pricing and availability
Einstein Copilot is in the pilot phase, with positive feedback and early success stories from pilot customers. Einstein Copilot Studio will be available for piloting in 2023. Enhancements to the Einstein Trust Layer, ensuring optimal security and compliance, will be generally available in October 2023 and included in all Einstein products.
Final thoughts
Salesforce's Einstein Copilot, combined with the powerful Einstein Copilot Studio and the robust Einstein Trust Layer, offers an unparalleled AI assistant experience. With its wide range of applications and industry-specific capabilities, Einstein Copilot revolutionises the CRM landscape and enhances customer experiences across various domains. By leveraging cutting-edge technology, Salesforce continues to solidify its position as a leader in the CRM industry, empowering businesses of all sizes to thrive in the digital age.
Find out more about Salesforce Einstein AI
Salesforce Einstein GPT, the World's First Generative AI for CRM