📅 Date : December 20,2023  🕒 Time: 6:30 PM- 9:30 PM 📍Location: Le Meridien Coimbatore
Cloud Odyssey and Salesforce are excited to extend an exclusive invitation to an in-person event in Coimbatore City, Tamil Nadu. This groundbreaking event, Salesforce Customer 360, is tailored for visionary leaders like yourself who shape the strategic direction of your organization. Join us as we delve into the transformative capabilities of the Education and Manufacturing sectors, focusing on innovation within the Salesforce ecosystem.
Who will attend?  
C-Suite from Manufacturing Industry:  CEO, COO, CFO, CIO, CTO, IT Head and other top-level executives driving business strategy. 
Educational Experts: Associate Directors of Education ,Board Members, Director of Studies, Director of Education and Training, Chair of Board of Directors, Dean, Vice Dean, Public Relationship Officer, IT Head.
Industry Leaders: Professionals seeking insights into how Salesforce Customer 360 can revolutionise their industry.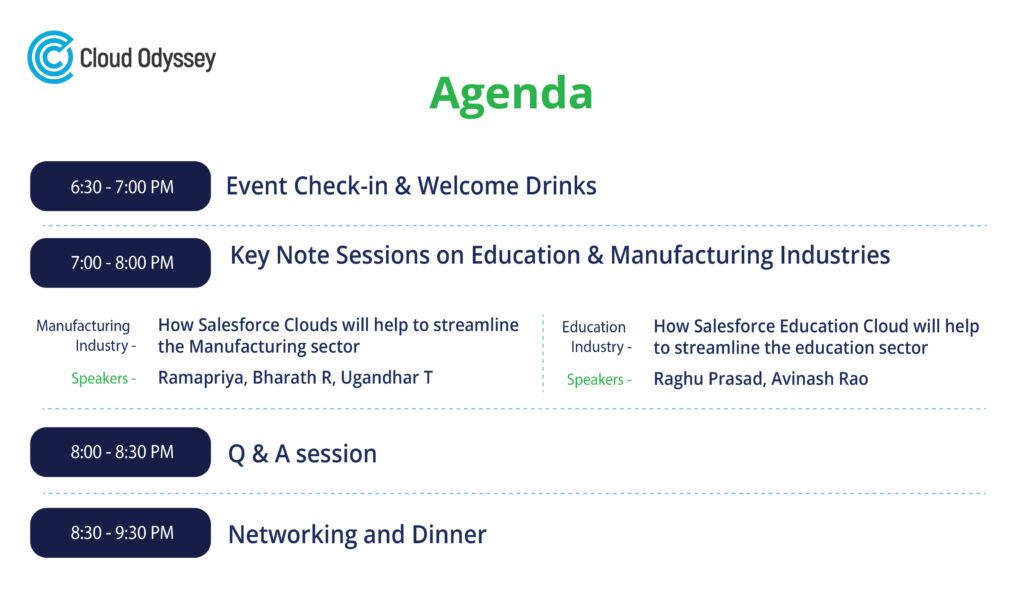 How Salesforce helps the manufacturing industry?
Salesforce Customer 360 for the manufacturing industry optimizes operations by leveraging Sales Cloud for streamlined order fulfillment and personalized recommendations, Service Cloud for proactive maintenance and improved customer service, Marketing Cloud for identifying new market opportunities, Commerce Cloud for efficient production processes, and Analytics Cloud for data-driven decision-making. This strategic use of Salesforce clouds enhances functionality and contributes to overall business success.
How Salesforce helps the education industry?
The Salesforce Education Cloud incorporates essential elements within the broader organizational framework, encompassing alumni engagement, student life cycle, community outreach, centralized data management, automated processes, enhanced collaboration, personalized learning, improved engagement, and data-driven decision-making.
Meet our expert speakers 
Bharath Rangarajan, Global Practice Head Salesforce, brings over 28 years of experience in the IT industry to the table. He is a seasoned leader with a focus on Salesforce Consulting, Agile Project Management, and ITIL Process Adoption. 
Raghuprasad Halakere, Salesforce Practice Director & Technical Architect, possesses over 13 years of experience in Salesforce Core, extending to recent Industry Clouds. Raghu excels in pre-sales, tech solutioning, costing, and delivery for ultimate customer satisfaction.
Ramapriya H N, Salesforce Practice Director & Technical Architect, brings over more than 20 years of experience & also has specialized as a Technical/Solution Architect in the Salesforce ecosystem. His expertise lies in architecting, designing, and overseeing application and data migration from legacy ERP systems to Salesforce CRM and force.com platforms across various global regions. He's effectively managed project deliveries and coordinated offshore and onshore teams.
Avinash Rao, Salesforce Senior Pre-Sales Consultant, boasts over 10 years of experience in Salesforce Core, extending to recent industry clouds. He is involved in pre-sales, functional solutions, and costing, aiming for ultimate customer satisfaction. 
Ugandhar Thalapaneni, Solutions Architect, brings over 13 years of experience in Salesforce Commerce Cloud to the table. Ugandhar has worked on all SFCC reference applications, including SiteGenesis-1, SiteGenesis-2, SGJC, and SFRA.
Main discussion themes
Salesforce Customer 360: Elevate customer experiences and satisfaction.
Sales Cloud: Boost sales productivity, automate processes, and make informed decisions. 
Service Cloud: Deliver exceptional customer service and support with a unified platform. 
Marketing Cloud: Create targeted marketing campaigns, nurture leads, and measure marketing impact.
Commerce Cloud: Revolutionise e-commerce with cutting-edge tools. 
Consumer Goods Cloud:Streamline operations, enhance collaboration, and strengthen customer relationships. 
Education Cloud: Transform education management, connect campuses, streamline processes, and promote student success. 
Secure your spot 
RSVP today to secure your spot at this exclusive C-Suite Roundtable and embark on a journey to transform your business with Salesforce Customer 360. 
Don't miss this opportunity to stay ahead of the curve in the ever-evolving world of customer relationship management. We look forward to welcoming you to an insightful and collaborative discussion at Cloud Odyssey's C-Suite Roundtable on Salesforce Customer 360.